Tomás García Asensio: the Spanish painter who used a computer to create 50 years ago, long before artificial intelligence | technology
Now we're fascinated by the use of generative artificial intelligence (AI), which creates gorgeous images from textual requests, and for months part of the art profession has raised its voice, worrying about what the popularization of this kind of image might entail. tools, such as Dall-E or Midjourney. But long before this level of perfection, 50 years ago, art was already testing computers, and an unprecedented experiment was being conducted in Spain.
On March 7, 1969, a few months before man first set foot on the moon, the Computation Center was officially inaugurated at the University of Madrid (now Complutense de Madrid), one of the first places where computing was performed. . in Spain and where a multifaceted team of experts explored synergies between technology and other fields, such as painting. One of the invited artists was the painter Tomás García Asensio (Huelva, 1940), witness and participant in a historical moment from which ideas and analogies can still be drawn five decades later.
"At that time, it seemed that computer science could be very suitable for crafting art," says García Asensio now, "and I thought a computer was something that could mesh well with the color world to perform automatic color processing," precursor of Spanish Geometric Constructivism. From that experience with machines, he created two works that are preserved in the Reina Sofia Museum. At 83 years old, he continues to experiment with color and his latest work on chromaticism can be seen at Art Gallery Espacio75 (Madrid) until June 25th.
These computers, of course, were not like today. The Computation Center was made possible by a collaboration with IBM: the University of Madrid built the building (now the UCM Data Processing Center) and the company provided the computer equipment. The protagonist, the IBM 7090, which is defined as "a general-purpose data processing system designed with special attention to the needs of engineers and scientists, who find that computing demands are increasing rapidly." Magnetic tape drives, printers, card readers, card punches, all in gigantic sizes.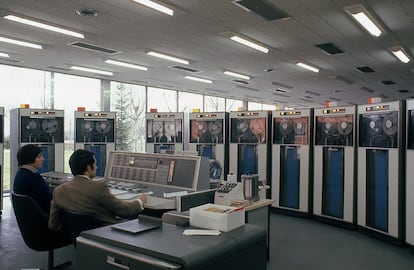 "This was not like the computers we have now. The biggest difference was that there was a complete break in communication between the user and the computer. There was no keyboard, no mouse, no images of any kind on the screen other than what could be produced with a file." conspirator or with rotation. They worked with some punched cards and then the results were printed on some kind of very long sheets of paper," recalls Thomas. In order to tinker with these machines, guests at the Computation Center (not only visual artists, but also musicians, architects, and poets) worked alongside computer scientists. And engineers and mathematicians."The scientists who were there had clairvoyance regarding art that I had not seen before," highlights the painter.
Florentino Briones was the director and Mario Fernandez Barbera, employee of IBM, project coordinator: "Fernandez Barbera was a collector of contemporary art, he knew many artists and these seminars became something of a pioneer, especially considering that Spain was still under a dictatorship," Lula Hinojosa explains. , Chair of the Performing Arts and Medium Group at the Museo Nacional Centro de Arte Reina Sofía.
This experiment ran parallel to other similar experiences in the US, Germany and the UK, where business creation began midway between art, technology and science. "The Center for Computation and the Symposium on the Generation of Plastic Forms, in which Thomas participated, was a pioneering experience not only in Spain, but also in the European and international context; a unique artistic intellectual opportunity," says Hinojosa. Something that characterizes the work of many painters, such as Manuel Barbadillo, the first Spanish artist to use a computer in his work, and Tomás García Asensio.
Calculations and algorithms in full color
"The colors are still very bright," Thomas happily says to the two works born in 1970 from his experience at the Reckoning Center. He is a mathematical artist of colour, exploring combinations and relationships, which is why he used a supercomputer 53 years ago. His idea was to interpolate two strings, and play with the relationship between luminosity and scale, to establish a mathematical method of adding color to the work and "painting a picture together between me and the computer". García Asensio, while explaining it, mentions another word that is very present now: algorithm.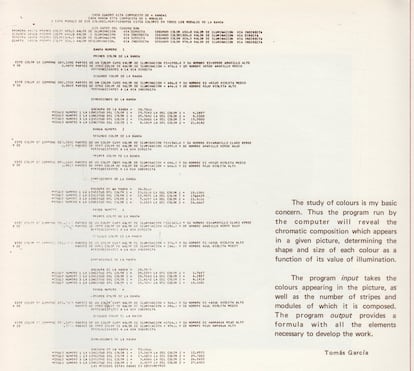 "I understood (and realized) that a computer is a very powerful calculator. I'm interested in color combinations and so I created a system to be able to create them in a variety of different ways, like a game of arithmetic in which a machine gets involved," he explains. To do this, imagine two groups of colors, from yellow as the lightest color to blue as the darkest. Between the two extremes, the medians can be established, a direct combination of greens and turquoises, but also another indirect route through reds and oranges. Correspondences and proportions can be attributed to these colors according to the relationship between their luminosities.
So Thomas "fed the computer", as he defines it himself, and played with "a distribution of increasing and decreasing intercalated series, to get the size of the chromatic regions in relation to the color qualities". The design was obtained by computer and then drawn in a traditional manner. "The worlds of science and art are not mutually exclusive; there are mathematical illustrations for which the adjective best suits them," adds the illustrator.
Many works were created in the center of computation as computers were an essential part of the creative process; Much can be seen in Room 430 of the Reina Sofía. Those of Tomás are usually displayed in another room of the museum, within his Mayagüez residency at the University of Puerto Rico.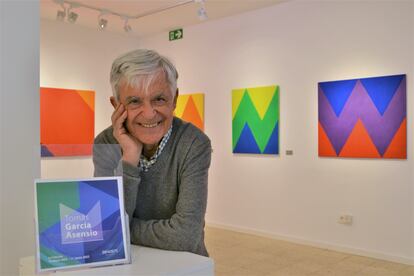 Neither Thomas nor the rest of the participants had to learn to code, but they were fueled by this intellectual exchange that left its mark on their work and led them to rethink art. García Asensio was one of the people most actively associated with the account center. And Hinojosa points out that his works are undoubtedly one of the works that best represent what that experience means, whether on a theoretical level, due to his participation in seminars, or on a production level."
Despite five decades and the evolution of computers, "Paintings could be from yesteryear, they just haven't aged. It's amazing that they were born at a time when it was very difficult to get out of the margins, and all of a sudden, a collaborative movement like this happened," she says. says Gemma Goiloppo, Co-Founder and Artistic Director of Espacio75.
Of computing as support for interlacing artificial intelligence
Unlike op art, which represents figures in a recognizable way, García Asensio in his paintings uses geometry to avoid representation and play with colors of abstraction. "A lie, the more real it seems, the more a lie. Pictures that do not represent anything are real, "the painter asserts. How could this look? The results produced by the AI-powered software that generates the images are increasingly realistic. With Midjourney 5th Edition (demonstration software that uses artificial intelligence), that "lie" that Thomas mentions is hard to distinguish from the reality.
"With computers in the 70s, you could actually program equations and create graphics and patterns that would be very difficult to do manually, even though it was limited at the time. Today we are in a completely different world because computers are no longer a purely mechanical and algorithmic thing, even "Like us," he explains. Alvaro Barbero, Director of Artificial Intelligence at the Institute of Knowledge Engineering (IIC). Thanks to artificial intelligence, the new software not only follows mathematical formulas, but also learns from other images and is "able to reproduce something more like a drawing a person might make," adds Barbero, who researches the field of image generation. with artificial intelligence.
The term AI was coined in 1956 and the democratization of AI tools that create images arrived in 2022, sparking a debate that seemed more open in the 1970s at the center of computing. "Back then it was pitched as something complementary; now it's automated and what Dall-E or Midjourney do in a certain way overlaps with what artists do with existing technologies," Barbero reflects. But the IIC expert believes the key is to continue seeing technology as a tool, as explored by artists like García Asensio. "It's likely that in the future a lot of people will make art asking the AI ​​to draw several versions of something they have in mind to work from there," he explains.
Not to explore current technological tools would be something "very extreme," says Hinojoso, of Reina Sofia: "Artists have always used the techniques they have available, which have evolved from the first drawing in the cave until now. In my opinion, the important thing is that they mention the technology that they use."
And what about the opinion of the first to unite technology and art in Spain? García Asensio believes that it would be a missed opportunity, because "with a machine you can reach precision in identifying data that cannot be achieved by eye". Although he is hesitant about the general use of the term artificial intelligence, he envisions great things in the future: "I have reservations that machines can be intelligent, but I believe that the intelligence of people catapulted by a machine can reach astonishing extremes". In the meantime, he would continue to paint the full colors in colour.
The images donated by Tomás García Asensio appear in the publication "Catalogue of the Computer Aided Art Exhibition Held in Madrid at the Palacio Nacional de Congresos on the Occasion of the European Symposium on Systems Engineering" (Universidad de Madrid. Centro de Cálculo, 1971).
You can follow country technology in Facebook And Twitter Or sign up here to receive The weekly newsletter.
Subscribe to continue reading
Read without limits