Uncategorized
The Kings opened the season of Teatro Real with Opera Aida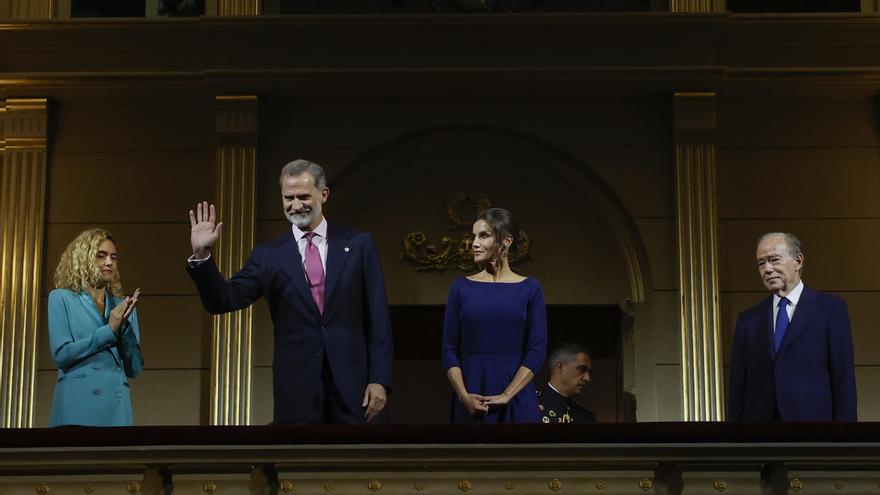 The Kings opened on Monday, October 24th The new season of Royal Theater With the premiere of the opera "Aida" after it received cheers and applause from the audience outside and inside the Madrid stadium.
The Kings arrived at around 7:20 pm and were greeted by the President of Teatro Real, Gregorio Marañón, and a delegation of political representatives, including the Minister of Culture and Sports, Miquel Esita, and the President of the Community of Madrid, Isabel Díaz Ayuso.
Dozens of people waited outside despite the danger of bad weather – there was even a special sale of Spanish flags – to greet Felipe VI and Letizia, who were dressed in blue.
The King and Queen received the audience before entering the royal palace and announced the audience Some shout "Vivan los Reyes" or "beautiful". Upon entering the theater, as usual, the Spanish anthem was played, and they again received applause as the audience stood.
The opera Aida marks a return to the origins of the Teatro Real with the revival of a work already directed by Hugo de Anna in 1998, coinciding with the first season of Madrid's Reborn Coliseum. This show has made a comeback with some modifications compared to De Ana's show more than 20 years ago. For example, projections were combined, as well as the introduction of a giant pyramid for It symbolizes "the splendor of political and religious power."
Among the attendees, in addition to those previously mentioned, is the Nobel laureate Mario Vargas Llosa, accompanied by his partner, Isabel Preysler, Mayor of Madrid, José Luis Martinez Almeida, President of Europa Press, Asís Martín de Cabiedes or Patron of Real, Pablo Isla, among others. Also other well-known faces such as Lieutenant Colonel Resto Megidi or journalist Boris Izaguirre.
Related news