Uncategorized
Jordi Evol and Marius Sanchez: "The Pope is one of the least luxurious heads of state"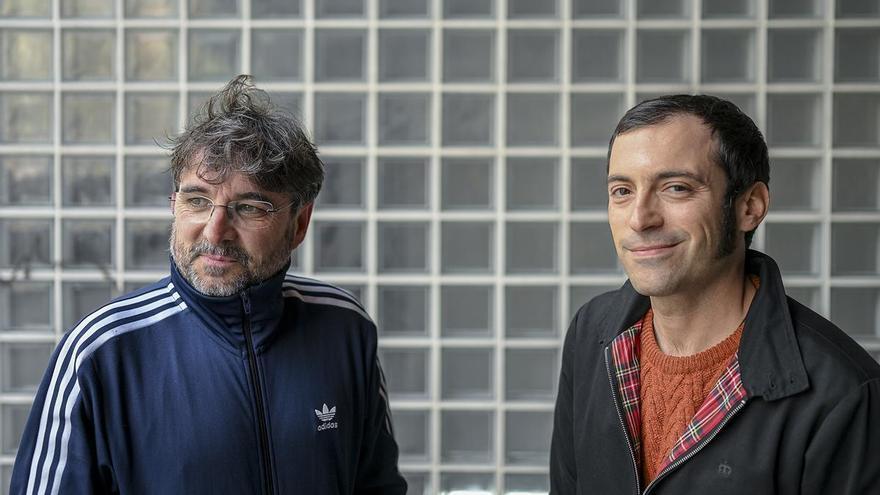 Opens this Wednesday, April 5th Amen. Francis answersDocumentary blessed by Disney+ and the Pope himself. A unique and innovative meeting between Francisco and 10 young people from all over the world to talk about questions about the Church and the issues that concern them. We chatted with her managers, Catalans Jordi Evoli and Marios Sanchez.
Q: How did you experience the news of the Pope's health in recent days?
JE: We tested it with normal anxiety when someone you value has a medical issue. And we didn't see it at any point in parallel with the premiere. We were fortunate enough to speak with him on Sunday via email and he replied as always and more extensively than other times. He always sends a handwritten letter that he puts as an attachment in the email. He told us he had a scare last week but the treatment went very well for him, and he was doing just fine.
Ms: It is true that from the first moment the people around him reassured us, we did not live with excessive anxiety because from the first moment they told us that he was getting better quickly.
Q: What do you like about the character?
JE: That he is one of the least luxurious heads of state, and this seems paradoxical when talking about the Vatican. We've always seen him do things from a very first person perspective, the connection we have is very first person, and when it comes to interviews, he's not accompanied by a wild entourage of counselors… no, no, he comes with someone else and the security people. For me, that simplicity is what draws me the most to the character considering who he is.
Ms: The feeling that thanks to him we can look into a place that is usually tightly closed. He opened a small door for us, which is very tempting for us.
Q: How did this bond and trust arise with the Pope to accept this project?
JE: Precisely because there was no pretense in creating this link and we never thought about it. It's a bond built over time, as we were connected to by our interview four years ago. It is a bond that occurs when people love each other. Somehow he might have liked our lack of seriousness with him, we're not one to kneel down and kiss a ring, which, by the way, he doesn't like. I think it was this mutual nature that seduced us both.
Q: Did you impose conditions?
Ms: And not even anyone. We put it directly on him, explaining our proposal. It took him two seconds to say, "Okay." And we were emboldened by even more dangerous proposals… abortion, sexual assault, LGTBI rights… At some point he said in jest to us: "Please make me at least one Catholic." He didn't ask us for profiles, names, or who to sit with.
Q: The Pope didn't play anything from the original production, do you think that's the case? What was your first reaction?
JE: He even had objections that made sense because of the way the documentary was filmed. Things don't always go well. and on the other hand, since he did not sit well with certain looks and gestures, above all, at no time did he ask for his elimination. I think that's very brave of him, especially since he has a chance to suggest something. There was no suggestion. He only made the gesture of taking off his hat when he finished the projection with him. He said that they reflect reality, that is the reality of the world and that diversity in youth is what exists. And he was glad that he was able to get close to them. For him it was another pastoral encounter.
Q: Have you come to the conclusion that the pope is more open than the very institution he runs?
JE: Never put institutions in front of anyone who bumps into them. I think a pope like Pope Francis has been a good fit for the Catholic Church, and now we'll have to see what happens next. But we have a Pope who is close, sympathetic, smiling… It's all good for the Church. Then the Church itself will have to resolve some of the conflicts raised by the Pope himself, but I am satisfied that there are matters internally that the Pope defends or that he would have promoted because he was not able to do them precisely because he is a part. to the institution with which he agrees. The Church will not reluctantly put the Pope.
Q: "Consistency is what costs us Christians most," the pope said in the documentary. Do you believe? Do you think a believer can do this job?
JE: We are not believers, and the Pope knows that from day one. And I think playing exactly the opposite field benefits any leader, as well as a politician. Lately, political leaders only go where they seem to get some easy questionnaires. I don't think the Pope would play across the board, but he certainly had more comfortable places to go and wanted to come with us. However, a believer who takes on business the way we do, I think he could have done quite well.
Ms: Both Jordi and I have people close to religion who comfort them and give them things that go beyond what the Catholic Church is. We have kept this in mind when presenting the conflicts that can arise between children and parents.
JE: It was very good for me that my mother was Catholic and Mass, from seven days to four days she went to Mass, and the Pope always respected her. And now it was different, I brought her a handmade scarf in the colors of the Argentine flag. Before winning the World Cup, I think my mascot was my mother.
s. The selection of young men was a decisive factor in the project.
Ms: It was very important because we all knew that the Pope spoke very well. What was important was finding 10 children who could measure up, who weren't too young, and who had interesting conflicts. We saw over 200 boys and girls, we always talked about it with Disney+ and we did it like in a movie: we had their pictures on the board and they were falling down, we did combos, they had to work as a team… It was a very cool process
Q: One of them is Juan Cuatrecas, a victim of abuse by a member of Opus Dei. Could this meeting with the Pope help other victims?
Related news
JE: It is a gesture that can comfort others who have suffered abuse. It is true that the privilege John had of being before the pope would not be enjoyed by many abuse victims. We hope that the fact of going to see the Pope will not be the Church's tool to correct the many cases of sexual abuse we have known. Juan manages to do it in the first person, hopefully this will be fine and the church will react, but you don't have to go see the president to say "look what happened".
Ms: I think the Pope took advantage of the fact that this documentary was going to be watched all over the world to send a message and for someone in a congregation in any city to know that the Pope knows this is happening and that he does not want it to continue to happen.