NEWS
I was in Helicoide, the largest torture center in Venezuela.
One of them walks through the darkness of the corridor until he enters the Prohibition Cell 1, the small one, which seats six but can house 35. Dirty appearance. Screams of pain could be heard in the background. We continue to advance to "Panito", one of the cells whose name occupies dozens of pages in reports on torture submitted by organizations such as the Kassala Institute, run by Tamara Sogo. Reports that have been submitted to the International Criminal Court in The Hague, where an investigation has been opened against Nicolás Maduro for crimes against humanity for a long time.
At some point in this virtual tour we hear the torture of a prisoner, the screams are real. It is a unique and conclusive testimony. Another detainee was able to record her on a phone, which he later managed to extract from Helicoide. Then we come to a wall with 30 names on it. All of them – activists, journalists, students, police … – have experienced the horrors of the largest torture center in Venezuela, the Helicoide Building, which was opened in 1955 as a shopping center and which Nicolás Maduro turned into a torture center. Since then more than 15,000 people have passed through it.
Behind each name is a story of suffering, each of these thirty people tells what their experience was like. In the background, a Sebin agent takes us to another room, where different types of torture are seen: electrocution, drowning, hanging while insects roam freely in the body of the detainee … But there is much more: sexual abuse, rape, isolation, darkness and inhumane conditions (prisoners kill themselves in The box where they bring in what they call food and cover it up. They call them "little boats" and try to keep the gas from escaping because they will. You have to live with them for days).
This Monday, the International Day in Support of Victims of Torture, the "Reality Helicoide" initiative was presented in Madrid, a virtual reality experience that aims to "educate, denounce, highlight and measure the crimes against humanity committed by Venezuelans". State Intelligence Service (SPIN) «in this building. A space where a delegation of the United Nations High Commissioner for Human Rights, led by Michelle Bachelet, was denied entry by Maduro.
This initiative was promoted by the association Memory soundswhich consists of survivors of torture centers in Venezuela, including the journalist Victor Navarro who spent five months, from January to May 2018, in Helicoide. "I was in Helicoide," says the journalist, who stresses that "torture is state policy in Venezuela. This idea arose because Nicolás Maduro still tortures," Navarro stated this morning during his presentation to the media of the virtual glasses, which have not yet been presented. Except in human rights forums, but they are intended to reach "human universities. human rights organizations and those who make decisions to disavow what is happening and demand the closure of the Helicoide and torture centers in Venezuela," he points out.
Navarro says he came up with the idea to create a virtual visit to Helicoide after seeing a concentration camp where Anne Frank was. The book he was writing about his experience – "The Unfinished Story: Stories of a Political Prisoner" – did not include all the suffering of those who went through this torture center.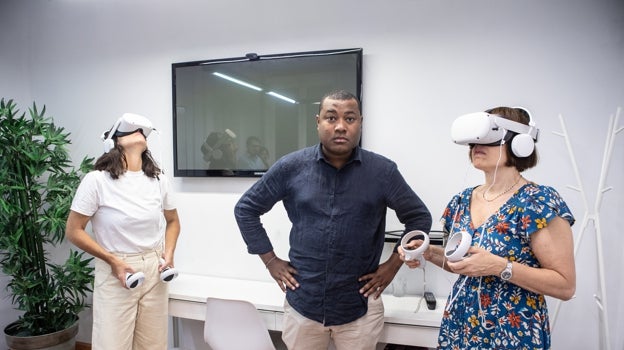 Navarro was arrested in January 2018 without a warrant, accusing him of belonging to a terrorist cell "because he worked for a non-governmental organization and won an American scholarship." It was an explosive cocktail. After participating in a riot with other prisoners—"after what we've already been through, we weren't afraid of death"—the regime negotiated and many of the detainees were released.
The case of Victor, a prisoner of conscience in the Maduro regime, was brought before the United Nations, and now he devotes his time to highlighting what is happening in Venezuela, a country where there are currently about 300 political prisoners, 70 of whom are locked up in Helicoide2. But it is not the only torture center, there is also Dgcim (Directorate General for Military Counterintelligence), in Polita Navarro confirms the presence of 17 secret detainees in the metropolitan area of ​​Caracas.
The journalist, who currently lives in Buenos Aires but does not stop traveling to raise awareness of what is happening in Venezuela, laments the whitewashing that is being done on Nicolás Maduro, "whether by gas or oil". "Human rights are underestimated. Torture must be rejected as a form of state policy. It must be said that Maduro continues to torture." Giving oxygen to Maduro gives oxygen to torture.