Gert-Jan Oskam: A quadriplegic man walks again thanks to a digital bridge between the brain and spinal cord | Sciences
On Wednesday, an international team of scientists declared a "new era" in the treatment of neurological diseases. Researchers have installed a "digital bridge" between the brain and spinal cord of Gert-Jan Oskam, a 40-year-old Dutchman who became a quadriplegic after a bicycle accident in 2011, while returning from work. Now there are two implants in his brain that read his thoughts and send them wirelessly to a third implant that electrically stimulates his spinal cord. The patient is able to walk long distances on crutches and even climb stairs with their help. Oscam had previously tested a more rudimentary device in another clinical trial, but on Tuesday he excitedly announced the difference at a news conference: "Before, electrical stimulation controlled me. Now I control stimulation."
The bike accident caused an incomplete spinal cord injury, allowing Oscam to make some remaining movements. Thanks to years of challenging rehabilitation, the Dutchman has been able to regain plenty of movement in his arms. In 2014, a ray of hope arrived: a new scientific technique, with electrical stimulation of the spinal cord by means of an implant, worked in mice in an experiment at the Swiss Federal Institute of Technology in Lausanne. Those rodents, with their marrow cut in two, were able to take more than a thousand steps. In 2016, the strategy also worked for monkeys.

Oscam was one of the first humans to test this experimental device in 2017, which fired electrical impulses into his spinal cord, synchronizing them with his clumsy voluntary movements. The patient himself can also manually control, using a few buttons, the stimulation of his legs. The new technology goes much further, according to Spanish neuroengineer Eduardo Martín Morod, who has been involved in animal experiments. "This study is a giant step toward the dream of restoring voluntary motor control in patients with neurological diseases, such as spinal cord injuries, strokes, Parkinson's disease, and essential tremor," he celebrates.
Colombian neuroengineer Andrea Galvez, born in Bogota 32 years ago, was one of the lead authors of the new study. "Gert Jan already has an implant in her spinal cord, which allows electrical stimulation and stimulates the muscles in her legs. In this clinical trial, we placed two implants in the motor part of the brain, one in each hemisphere, allowing us to read and decode the intention of movement and make that digital bridge." So that the stimulation in the legs is intentional," says Galvez. Their results were published Wednesday in the journal natureSpearhead of the best science in the world.
The research leaders are neuroscientist Gregoire Courtine and neurosurgeon Jocelyn Bloch, from the Federal Polytechnic School of Lausanne. His team has spent more than a decade perfecting the device using adaptive AI. Curtin admitted at the news conference that "this technology is still in its infancy" and announced that the next step is to make the devices smaller and test them on more patients. So far I only tested them Gert Jan Oscam. The system requires replacing about 2 square inches of the skull with titanium-containing material and carrying a small backpack with a processing unit. Bloch does not hide his enthusiasm: "For me, it sounded like science fiction. And now it's a reality. Onward, founded by Courtine and Bloch, is trying to develop a commercial version of this digital bridge.
Neurologist Antonio Olivero, of the National Hospital for the Paraplegic, in Toledo, applauds the new work, but with caution. "It's an important step, but at the moment he's just a patient. We don't know how generalizable it is. Oskam has a slight clinical improvement even when the system is turned off, he stresses, which indicates a reorganization of its neural circuits. It can be generalized," he stresses. to be a rehabilitation tool.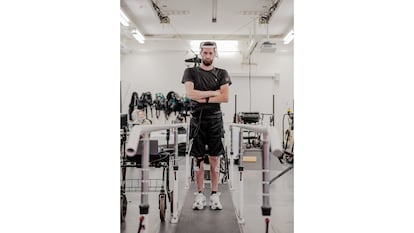 Digital bridges aren't the only promising alternative for people with spinal cord injuries. Oliviero gives examples such as the Puerta de Hierro General Hospital in Madrid, which is testing a treatment with a patient's own stem cells, which are injected into the exact location of his injury. Meanwhile, at the Chicago Rehabilitation Institute, Chilean neuroscientist Monica Perez is experimenting with non-invasive electrical stimulation at multiple points, with encouraging results. And Antonio Olivero's group is testing rimonabant, which favors the excitability of motor neurons.
Martin Moraud, a 39-year-old neuroengineer from Madrid who runs his own lab at the University Hospital of Lausanne, believes the level of precision his colleagues Curtin and Bloch have achieved is unprecedented. "It's something they've been dreaming about for decades," he says. Martín Moraud is now trying to convey the idea of ​​a digital bridge to Parkinson's disease. "The concept is similar: having neurometric measures of motor intentions — or motor deficits — that can be used to stimulate the spinal cord," he explains.
The Swiss institutions involved have distributed a touching video of Geert Jan Oskam, in which he is seen leaning against a bar with a beer and some french fries, talking to two other people. "I've spent over 10 years without being able to stand a beer with friends. These are the things people usually don't appreciate," declares the patient.
You can follow Theme in FacebookAnd Twitter And instagramor register here to receive Weekly newsletter.