TRAVEL
Celebrities remember and imitate Karl Lagerfeld at the elegant Met Gala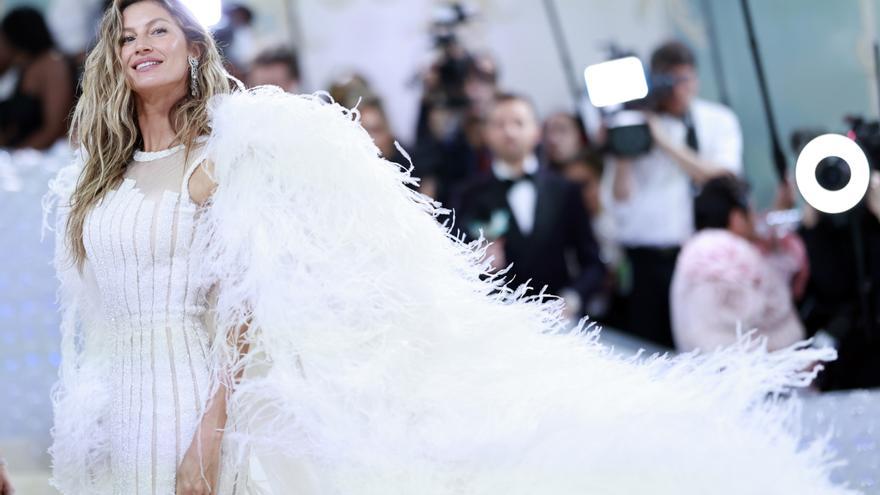 Crowds of celebrities, including singers, athletes, models, actors and fashion designers, attended the Met Gala on Monday in New York With an extraordinary shared commitment to style, a tribute to the late fashion icon Karl Lagerfeld and many nods to his legacy.
This event, one of the most exclusive in the United States, imposed a very clear dress code compared to recent years: it was to honor the German designer who for decades, until his last days, created the soul of the club. High fashion brand Chanel, but also Fendi and Chloe.
Nor the extravagance of Kim Kardashian and her sisters Kylie and Kendall Jennerthe queens of sensuality on the red carpet, nor the singer Rihanna, who arrived an hour and a half late hidden in a huge gown with white flowers, overshadowing the leading role of the fashion designer who has been absent since 2019.
It wasn't the first time Fashion Night had honored a designer, but it was hard to remember why the guests kept going this way, almost to the letter, perhaps because The distinctive aesthetics of Lagerfeld's creations So is their own identity identity, which is part of popular culture.
Thus, the black and white pairing prevailed, Pearls, velvet bows, flowers, sequins and chain accessoriesAnd there were stunning details like actor Jeremy Pope's gown with the designer's face, or Cardi B's oversized skirt resembling Chanel's quilted bag.
Honors galore
Supermodels like Carla Bruni, Gisele Bundchen, and Naomi Campbell Among the most famous celebrities, they pulled out the "classic" Chanel dresses. Nicole Kidman reclaimed the one she wore 20 years ago in Chanel Ad No. 5, and Margot Robbie and Dua Lipa They scoured '90s suits in the brand's archives.
Penelope Cruz, one of the event hosts at the request of Vogue USA's editor, Anna Wintour Wearing a white sequined, hooded Chanel dress from 1998, the year before she met Lagerfeld, she reminisced about their last moment together, a stroll in Central Park after their last collection.
Cruz led a large Hispanic group in which her friend was Salma Hayek, in a red Gucci dress, which she said was a neighbor of Lagerfeld during his time in Paris; Or Maluma, in a gray suit and white scarf embroidered with a letter the designer wrote to the house of Hugo Boss in the 1980s.
Some guests chose to imitate the fashion designer by wearing classic suits, sunglasses or gloves; And even the designer's cat, Choupette, was given a tribute: the actor Jared Leto He caused a sensation by appearing disguised as this animal, and singer Doja Cat was unrecognizable by a facial prosthesis that made her face like that of a cat.
Risks, surprises and money
Many men have risked their bets, like the singer bad Bunny, who were wearing a backless white jumpsuit, or Peter Pascalwho wore matching red shorts with a long blazer, though it was a little more extreme lil nas xwhich was practically naked and painted in gloss.
As always, the event gave way to surprises, and on this occasion the tennis player announced two campaigns Serena Williamswho is expecting her second child with the businessman Alexis Ohanian; and model Karlie Kloss, who is also the second with businessman Joshua Kushner.
And in anticipation of Rihanna's arrival, some celebs began to leave and show up for their up close moment: the basketball player Brittney Grinerwho was recently freed from Russia, also embraced the basketball player Dwyane Wade and singer b. Didi took his partner out for pizza.
Related news
It wasn't all magical though, because among other surprises there was the appearance of a cockroach inside The carpet is white, not red. and the rapid incursion of a group of policemen into the museum, who left after several minutes, avoiding an explanation of what had happened.
The event accompanies the Met Fashion Institute's flagship annual show and raises funds at an average of approx $50,000 per personbut you can only attend if you have an invitation, have plenty of money (or a sponsor), and editor Anna Wintour agrees.